SERVICES
Samoa Victim Support Group (SVSG) uses a human rights based approach to service delivery. The approach includes case management, court support, psychosocial support, residential care, and community engagement.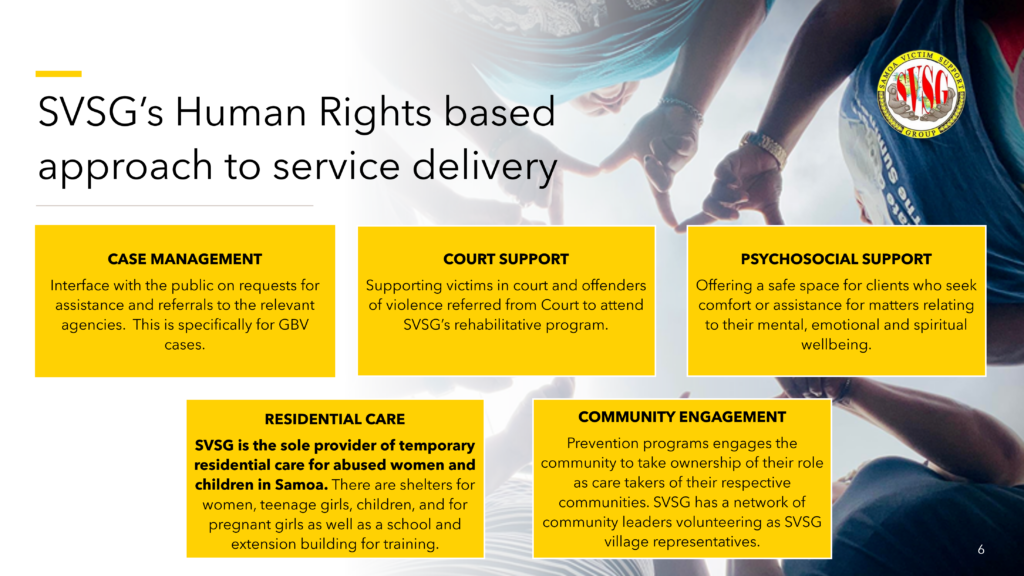 Casework & Welfare Services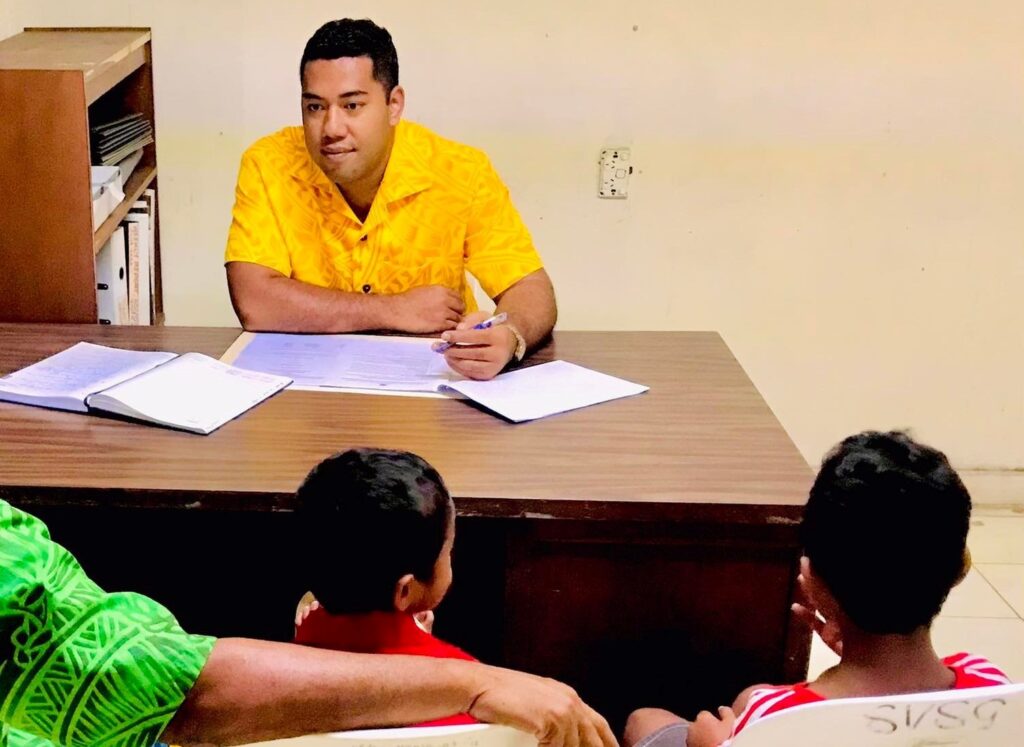 Case work is SVSG's critical response mechanism for primary interface with the public. This is the process whereby SVSG receives requests from the public, or referrals from organisations such as the Police, evaluates and determines how to respond. Criminal matters are immediately referred to the Police.
Support is provided by SVSG for victims through the legal process. It involves informing clients of general legal information and their rights under the law and providing assistance to familiarise victims with the court process so that they can be prepared when they enter the courtroom. Under SVSG's casework, we apply for Interim Protection Orders to the Family Court for the protection of men, women and children affected by family violence.
SVSG's casework assistance also includes the operation of a 24-hour free Help Line 800-7874 that gives our people access to support whenever there is a need.
In recent years SVSG has expanded its operations to fight against the root causes of violence and social problems in our community i.e. poverty and lack of education. SVSG's welfare assistance includes immediate relief such as accommodation, food and clothing on a temporary basis.
SVSG is particularly concerned with the link between poverty and crime, domestic violence and other social problems. Breaking the poverty cycle is therefore a key goal in a partnership that SVSG has entered into with Women in Business Development Incorporated (WIBDI), as a sister organisation to assist families of victims through promoting educational, training and income generating opportunities.
Recently, SVSG has implemented women's economic empowerment programs to improve lives of the unemployed women in Samoa through livelihood skills building which now enable them to earn an income.
Campus of Hope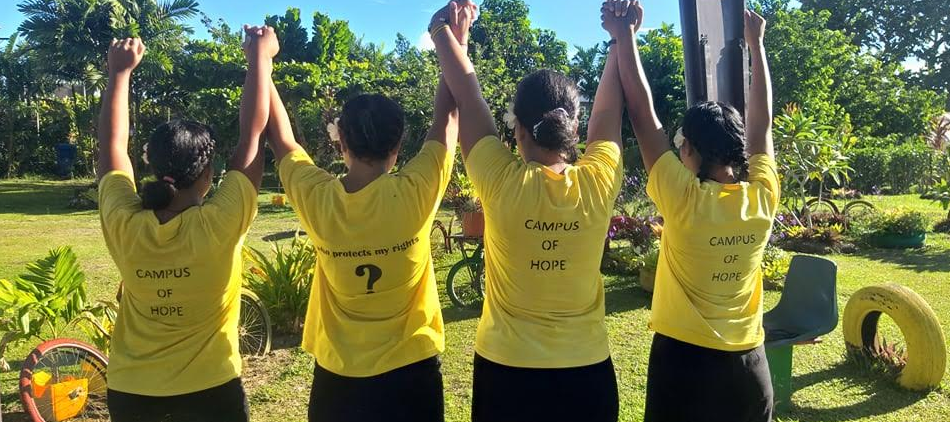 The Samoa Victim Support Group (SVSG) is the sole provider of temporary residential care for abused women and children in Samoa. SVSG operates several shelters and two schooling facilities at the Campus of Hope in Apia. The Campus is located on leased land from The Government of Samoa.
SVSG is sheltering an overwhelmingly increasing number of women and children who are victims of violence. Some victims are exposed to further abuse when they return to their home or no longer have a home to return to. Victims are safe and well cared for at SVSG's Campus of Hope that offers the following facilities:
1. Sakura House
Sakura House is a domestic violence shelter for women. Sakura is a name for the Japanese cherry blossom season and means a 'better life'. It also represents a time of renewal and optimism.
2. Asahi House
Asahi House is a training centre for the children that includes a computer lab. Asahi means the 'rising sun'. The Government of Japan built and donated Sakura House and Asahi House as part of its Grass-Roots Human Security Programme. Both houses cost ST$477,000 and were officially opened in June 2021.
3. House of Blessings
House of Blessings was built in 2015 with funding support from an Australian donor. The nursery functions as a place where young mothers can raise their children when they need a safe environment. The majority of the children who are raised in the nursery (until 3+ years old) are born from children who are survivors of rape. It also includes an isolation unit and a clinic.
4. House of Hope
House of Hope was the first shelter to be built in Samoa (in 2012) to provide a temporary home for children aged 3 to 12 years old. Through the donation of the Rotary Club of Surfers Sunrise in Queensland, Australia, the house safely cares for children who are victims of crime.
5. House of Dreams
House of Dreams was built in 2015 with funding support from an Australian donor. It provides a temporary home for female survivors of crimes who are 13 years old or above and under the care of SVSG.
6. Ray of Hope Shelter
Ray of Hope was specifically built in 2016 by the Ray of Hope Foundation and Digicel Group to shelter pregnant survivors of rape who are under the care of SVSG. The house offers private clinical rooms for regular check-ups, which protects them from being exposed in public hospitals.
7. School of Hope
School of Hope follows the curriculum of mainstream schooling. It also offers ongoing counselling as well as opportunities for growth and development to traumatized victims of sexual abuse. It is important that the school remains private to protect the children from public scrutiny.
8. Extension School Building 2017
Built by youth for youth, the School of Hope has a separate classroom that caters for activities like home economics and livelihood training workshops. When young people are equipped with a livelihood skill they are equipped to contribute to society. Having a skill empowers them to contribute to their own livelihood. This project was initiated by students from Helensvale State High School. The school has since partnered with four other high schools in Queensland to raise further funds for the building.
9. Hope Gift Shop
This souvenier shop sells goods produced from the children's livelihood rehabilitation, such as printed lava lava, jewellery and handicrafts
Advocacy & Awareness

Critical to SVSG's mission is raising public awareness on the human rights of everyone in the community and that crimes such as incest, rape, sexual assault and child abuse are illegal and will not be tolerated in the Samoan community. Being aware provides the impetus needed for victims to come forward and seek assistance, to change the behaviour of perpetrators and improve the laws and services providing support to survivors of crime.
SVSG provides three different advocacy programs: Men's Advocacy Program for male offenders; Tina Faufautua Program for female offenders; and Youth Empowerment Program for the young offenders.
Counselling programs such as anger management, couple counselling, family group counselling, alcohol and drugs abuse counselling form part of the Advocacy Program. Included also are the basics in the Samoan tradition and culture as well as the spiritual aspect of everyday life.